Three and a half years ago, I was contemplating the next car I was going to buy. My in-laws were adamant that I should get a minivan and I have to admit that the features were certainly tempting. I was determined to find the best car for me so, I started asking my mommy friends why they chose the car they chose. I had narrowed it down to about 4 cars:
Toyota Sequoia
Acura MDX
Honda Odyssey
Toyota Sienna
I asked one of my friends why she chose the Ford Explorer over a minivan and she said: "I'm already a housewife, I don't want to be a housewife hag."
So, I was forever affected by that statement. I narrowed my choices to the Sequoia and the MDX. In the end, I chose the Sequoia because my husband thought the Acura was to girlie and didn't think that it felt like a real truck.
I loved my Sequoia, up until Jr. Peanut was born. Then, I started dreaming of the doors on a minivan. When I got accosted by a homeless man I promised myself, I'd get a minivan specifically for the doors.
This past week, I made it official...I'm now a housewife hag with my new Honda Odyssey: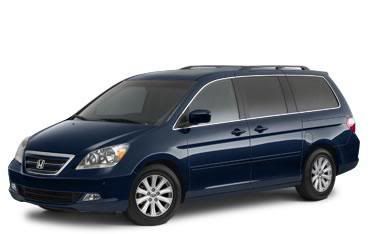 Although I am a housewife hag, I have some pretty cool gadgets, so please call me the "Geeky Housewife Hag". I pimped my ride with the following gadgets:
Navigation System
DVD Player
iPhone
-------------------------------------------
I'm sorry I've been so mysto lately. I didn't have that great of a birthday last week, I got sick, and I was busy contemplating the purchase of a new car. I will do my best to start reading the 200 posts I have in my google reader...especially now that I can read them on my phone. I also received some recognition from some of my peeps-- Jackie (who thinks I'm nice) and Brillig (who thinks people should read my blog). Thanks ladies, you're the bestest (a remnant "word" from my youth)! Badges and meme to follow.