I've been tired and lazy about posting on my blog. Sorry. There's a little something called life that sometimes gets in the way of blog writing. The entire time I've been gone, I would think of something to blog about and then I would just be too tired to actually blog about it.
Everyone has always told me that going from 0 children to 1 child is the hardest. Then 1 to 2 children is hard and then from 2 children to 3 children is a piece of cake. I really would disagree. Increasing your brood by one is hard each time. I'm not quite sure how Brillig does it with 4 young ones and STILL has time to blog.
Little Sissy was born on July 24th at 4:34am. She weighed 6 lbs, 3oz and was 20 inches long. It was an easy labor. I only had one half push and she was out (I guess the birth canal gets more slippery with each successive birth). The Princess and JR. peanut both love her very much. They are constantly wanting to touch, hug, and kiss her.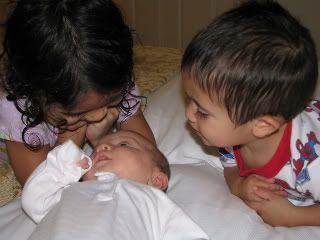 Thanks everyone for inquiring about me.